CRK COMPANY PROFILE - MEDICAL DIVISION
C.R. Kennedy's Medical Division was established in 1981 when our long-time partner, Pentax diversified into the manufacture of Flexible endoscopes for gastroenterology. The Medical Division has since grown in the products and suppliers it represents and is represented in every state in Australia plus New Zealand. Fujifilm (Japan), Intromedic (Korea), Richard Wolf (Germany), Galantai (N.Z.), Microline (USA), Xion (Germany), Wilson (China) and 3D Systems/Simbionix (USA/Israel) are just a few of the medical device manufacturers we now represent from all over the world.
In July 2017, we acquired the distribution business of Endocorp Pty Ltd, the long-time Australian distributor of the World-famous Richard Wolf endoscope brand as well as a number of other high quality medical device lines from Germany, Switzerland and the U.K. As part of this acquisition C.R. Kennedy employed all the Endocorp staff with a combined 200 years knowledge in the medical devices industry. The Endocorp acquisition has expanded our expertise from being primarily focussed in gastrointestinal endoscopy to now comprehensively encompassing urology, ENT, spine surgery, pulmonology, gynecology and general surgery.
Our Australian Medical Division now comprises a total of 17 field sales representatives, 5 Service Engineers and 6 office support staff. C.R. Kennedy's success can be attributed to our overarching goal to deliver unparalleled customer service. As a result, a major portion of our sales consist of repeat business from satisfied customers.
Our Core Values
Excellence - working tirelessly to achieve a positive and strong outcome
Collaboration - working together to achieve the best solution
Integrity - acting with honesty and reliability with the right morals, ethics and principles
Accountability - taking ownership of our actions, our work, our responses, our successes and our mistakes.
Commitment - to our customers; to our responses; to our work efforts; towards achieving the most suitable outcome.
Agility - being flexible and adaptable to any request or enquiry from our customers, and to any given task or situation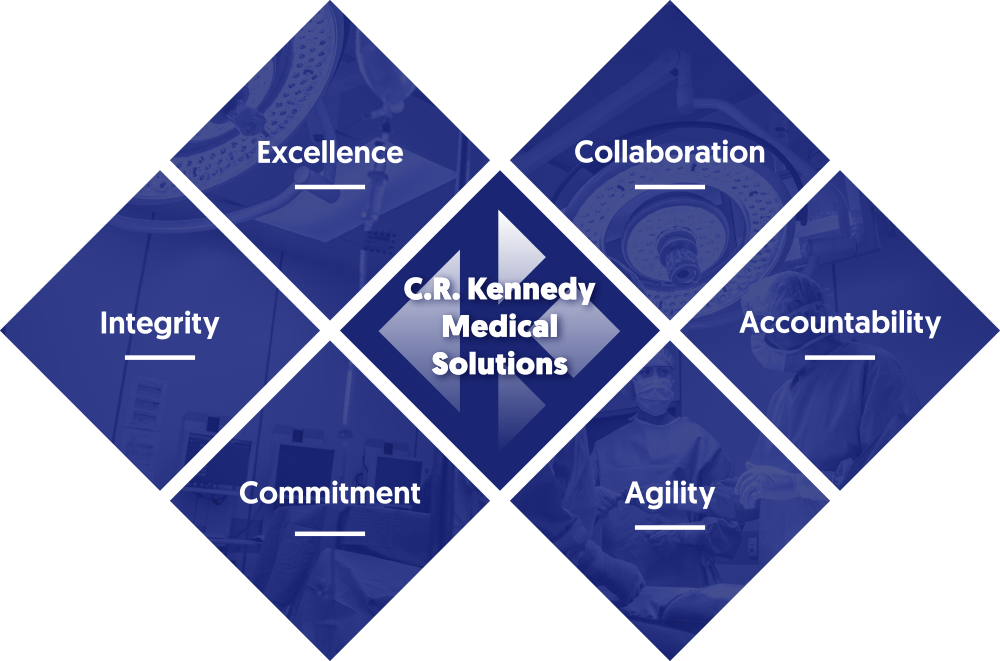 Any supplier represented by C.R. Kennedy can expect to enjoy an uncommonly high market share for its products in a relatively short period of time. For example, while C.R. Kennedy was distributor for Pentax endoscopes, Australia had the highest market share of Pentax endoscopes of any country in the world. We repeatedly won best distributor and best sales awards from Pentax year after year. In 2012 we ceased representing Pentax and commenced distributing flexible endoscopes from the much larger FujiFilm Corporation. In a short time, we increased Fujifilm's market share in Australia dramatically. In only a few years Fujifilm endoscopes are in three times as many hospitals than when we took it on. Barely a month goes by now without a new hospital switching to FujiFilm.
MiroCam is a small camera in a pill-sized capsule that is swallowed and records a video of the entire small intestine. It is manufactured by Intromedic Korea. Under C.R. Kennedy's stewardship, Australia has the highest sales of the MiroCam capsule endoscopes in the world.
Above are just a few examples of our sales successes. In short, representation by C.R. Kennedy will guarantee a manufacturer the best sales results for its medical devices in Australia.